General Information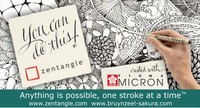 Zentangle: the relaxing hobby trend of the moment.

Discover the relaxing power of drawing with Zentangle! Coming from The United States, more and more people from Europe embraces this popular new hobby trend. By drawing structured patterns you can easily create your own amazing piece of art. It looks hard, but it's easy-to-learn. You can do this!

Meet the founders of Zentangle.

The founders of Zentangle Rick Roberts, who lived for years as a monk, and Maria Thomas, a botanical drawer and famous calligraphist. She designed certificates for various prestigious universities and has was even asked to calligraphy a tribute for the Dalai Lama. One evening, while drawing patterns in a manuscript, she experienced a sense of timelessness, freedom and bliss. An ultimate focus on what she was doing, without worries and thoughts to something else. Later she described her experience to Rick who immediately told her ' what you are describing, is  the feeling of meditation!'. It inspired them so that they wanted to share this happiness with everyone and developed a simple method to unravel and draw patterns.

The Zentangle-method in  a nutshell.

Although the result of your artwork looks very beautiful and complex, Zentangle is all about the drawing process. The relaxing mood while you are fully focused on what you are doing, creating your own amazing piece of art.  You don't know when you start how you Tangle will eventually look like. This makes Zentangle so unique as you will be surprised over and over by the result you have created!

What makes Zentangle so special is the fact that you do set any goals for yourself and that there are no mistakes to be made, everything is good. Every line you draw is a contribution to your own artwork, according to Rick and Mary. They therefore chose the Sakura Pigma Micron as the ultimate writing instrument for Zentangle, a fine liner with permanent, dark black ink. Each line you make is permanent. There is a symbolic message, that you do not have to doubt yourself. Trust yourself that it will be okay.

Zentangle, how do you start?

Let's start! Sakura has developed seven exclusive Zentangle Tool Sets which got all materials needed to get started.  These Tool Sets include Pigma Micron fine liners in various point sizes, Tiles (the finest kind of artists' paper of 9 x 9 cm, with a soft cotton texture), a graphite pencil and a tortilon. There are also special Zentangle Tool Sets with black Tiles and white Sakura Gelly Roll pens. With these sets you can create with the same Tangles (patterns) an amazing  opposite effect.

Rick en Maria describe with the Zentangle method easy steps to create something beautiful. Take your Sakura Pigma Micron 01 and a Zentangle pencil and get started...

1.With your pencil, place four dots near the corners of your Tile. In this way your Tile doesn't look empty anymore and you don't have to be afraid to get started.

2. With your pencil, draw a line between the dots to form a border.  Tip: you can make straight or curly lines, whatever you like , to give the border a personal touch.

3. With your pencil you will divide your 'square' into different sections.  Make lines from one side of your 'square' to the other. Repeat this in order to get different sections. The lines can cross each other and again can be made straight or curly. Just do what you like!

4. Take your Sakura Pigma Micron and choose one a section. Maybe you have 4, 8 or even 12 sections?  Each section will be filled with a different Tangle (pattern). Each Tangle is a combination: a dot, a straight line, a point, a bended line or a S shaped line. With these five basic strokes you can create everything! How easy is that?

5. Each section is now filled with a structured pattern.  It looks fascinating, right? With your pencil and tortillon you can add shades of grey to create contrast and dimension. It looks like your piece of art comes off the Tile!

6. Almost ready, just sign the front and date the back. Look at your Tangle and allow yourself to admire it while turning this way and that.

There are already thousands of tangles you can try or invent some by yourself! Look at Google, YouTube or Pinterest for inspiration. Or visit the book store, you will find various Zentangle books. There is already a huge community that share their Tangles online. You can even get a multi-day course at Rick and Mary to become a real CZT (Certified Zentangle Teacher) . With this unique diploma you are certified to give the original Zentangle workshops. Currently there are more than 1,700 CZT's world wide!

Stories about Zentangle.

Thousands of people have already experienced the relaxing effect of Zentangle. Some stories to share from people already attached to Zentangle: 'A wonderful way to relax and create at the same time ', ' Wonderful art form – creating art which appears like magic! 'and 'This is even better than eating chocolate'.

Zentangle is used to promote self-confidence and creativity, team work and, even as a form of therapy for problems such as addiction, attention disorders and to cope with stress. There are American hospitals using Zentangle to distract the attention of their patients during the rehabilitation process, and Australian and Taiwanese schools use Zentangle to increase the concentration of their pupils. The Zentangle-method is also associated with the development of a better handwriting, better eye-hand coordination, personal expression, concentration and intercultural understanding.

Let's Tangle!