Supplement Porselein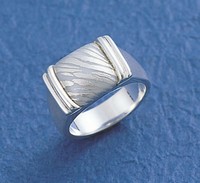 Art Clay Silver en porselein                                                                        
Een mooie en subtiele combinatie is die van  Art Clay Silver en porselein. Het pure witte of juist het beschilderde porselein. Porselein is in verschillende maten te krijgen. Rond, ovaal of vierkant.
Het meebakken van porselein in zilverklei is mogelijk doordat porselein pas op een veel hogere temperatuur dan Art Clay Silver smelt. Je hoeft dus niet bang te zijn dat de vorm van het porselein veranderd. Je kunt het dus verwerken in welk sieraad je het dan ook wenst.
Bijzonder is dat je het porselein ook te bewerken valt met Art Clay Silver. Neem hiervoor de Art Clay Silver pasta. Vanzelfsprekend kunt u ook de Art Clay Silver spuitpasta gebruiken. 
Persoonlijke herinnering
Ontzettend mooi is het verwerken van 'oud" porselein. Denk hierbij aan de scherven van een porseleinen kopje van  grootmoeder. Er valt hier met Art Clay Silver een prachtig sieraad mee te maken. Niet zo maar een sieraad, maar één met schitterende herinnering!
De supplement opleiding Porselein duurt 2 dagen.       
Adviesprijs supplement opleiding Porselein
EUR 550,00 incl. BTW
EUR 454,55 excl. BTW
Voor meer informatie kunt u contact opnemen met een Teacher die zich in deze techniek gecertificeerd heeft.