Classic & Terracotta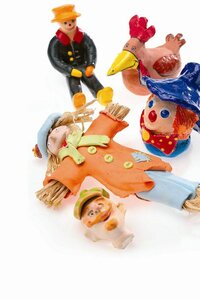 Eigenschappen:
Darwi Classic en Terracotta is een homogene en zelfhardende klei. Classic is wit van kleur en Terracotta rood. Beide hebben een minimale droogtijd van 24 uur per cm en krimpen niet als gevolg van drogen. Darwi Classic en Terracotta kunt u gemakkelijk bevestigen aan een breed scala van materialen, zoals hout glas, polystyrene, keramiek en kunsstoffen. Geschikt voor zowel kinderen als volwassenen, amateur- en professionele kunstenaars. Door de fijne structuur van deze klei kunt u zeer precies werken. Gemakkelijk te snijden met een mes of te knippen met een schaar.

Toepassingen:
Voordat u begint met boetseren is het aan te raden om de handen light te bevochtigen en de klei zorgvuldig te kneden. Drogen kan op kamertemperatuur op absorberend papier. Wanneer droog kun u het project verven of vernissen.