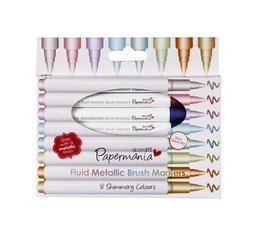 Papermania
Fluid Metallic Brush Markers (8pcs) (PMA 8511008)
Beautiful fluid metallic markers. Dries with a metallic finish, ultra shimmery. Bright sparkling colours are perfect for use on light or dark paper. Add dramatic effect to cards, gifts and scrapbooks. Great for accentuating, edging and detailing your proj
Numéro de l'article:
PMA 8511008
Reviews
Aucune évaluation n'a été trouvée...
Beautiful fluid metallic markers. Dries with a metallic finish, ultra shimmery. Bright sparkling colours are perfect for use on light or dark paper. Add dramatic effect to cards, gifts and scrapbooks. Great for accentuating, edging and detailing your projects. Colors: Silver, Pink, Purple, Blue, Green, Light Green, Copper, Gold.
Aucune spécification n'a été trouvée