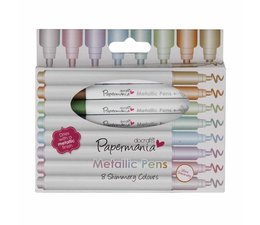 Papermania
Metallic Pens (8pcs) (PMA 8511005)
Use Papermania's Metallic Pens for an ultra shimmery finish. Bullet tipped for doodling addding borders patterns and text to your craft projects. Dries with a metallic finish, ultra shimmery. Add dramatic effect to posters, signs and decorations. Great fo
Numéro de l'article:
PMA 8511005
Reviews
Aucune évaluation n'a été trouvée...
Use Papermania's Metallic Pens for an ultra shimmery finish. Bullet tipped for doodling addding borders patterns and text to your craft projects. Dries with a metallic finish, ultra shimmery. Add dramatic effect to posters, signs and decorations. Great for school projects or any drawing or painting activity. Colours: Silver, pink, purple, blue, green, light green, copper, gold.
Aucune spécification n'a été trouvée