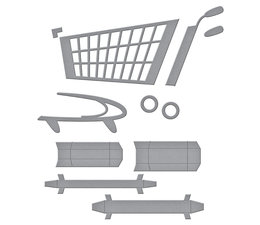 Spellbinders
3D Shopping Cart Etched Dies (S4-1141)
Snijmallen t.b.v. papier projecten zoals scrapbooking, kaarten maken of home deco. Voor specifieke productinformatie zie afbeelding.
Beschikbaarheid:
Op voorraad
Reviews
Geen reviews gevonden...
3D Shopping Cart Etched Dies is part of the Add to Cart Collection by Becky Roberts. This set of 10 thin metal dies assembles into a cute 3.5 x 2.75-inch cart to fit an A2-sized (4.25 x 5.5-inch) card front. Add the gusset piece to create a fun dimensional cart, depending on which size you choose, it can have a depth of ¼-inch or 3/8-inch. Don?t forget to add the other sets in the collection! Add to Cart is a unique collection centered around an adorable shopping cart. This debut offering from Becky Roberts brings the shopping experience to a whole new level! Use all the sets designed to mix and match within the collection. What`s in your cart? Approximate Size(s): Base Cart: 3.00 x 1.70 in./7.50 x 4.30 cm; Cart Offset: 2.90 x 1.70 in./7.40 x 4.30 cm; Cart Handle: 0.60 x 2.40 in./1.50 x 6.10 cm; Handle Cover: 0.20 x 0.50 in./0.51 x 1.30 cm; Cart Bumper: 0.27 x 0.25 in./0.67 x 0.64 cm; Cart Wheels: 0.44 x 0.44 in./1.10 x 1.10 cm; Cart Support: 2.10 x 1.10 in./5.40 x 2.80 cm; 1/4 in. Gusset: 0.90 x 0.63 in./2.20 x 1.60 cm; 3/8 in. Gusset: 0.90 x 0.75 in./2.20 x 1.90 cm.
Geen specificaties gevonden