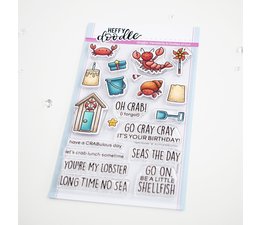 Heffy Doodle
A Little Shellfish Clear Stamps (HFD0275)
Stempels t.b.v. papier projecten zoals scrapbooking, kaarten maken of home deco. Voor specifieke productinformatie zie afbeelding.
Beschikbaarheid:
Op voorraad
Reviews
Geen reviews gevonden...
4x6 inch Clear Photopolymer Stamp Set. You will go CRAY CRAY for this set of 20 adorable beach themed stamps featuring a lobster, a crab, a crayfish or hermit crab. Also includes a bucket and spade, a pinwheel, a gift, a mini party hat, a sandcastle, a beach hut, a starfish and a sandcastle birthday cake image. Also includes a selection of 8 beachy, pun-filled sentiments.
Geen specificaties gevonden